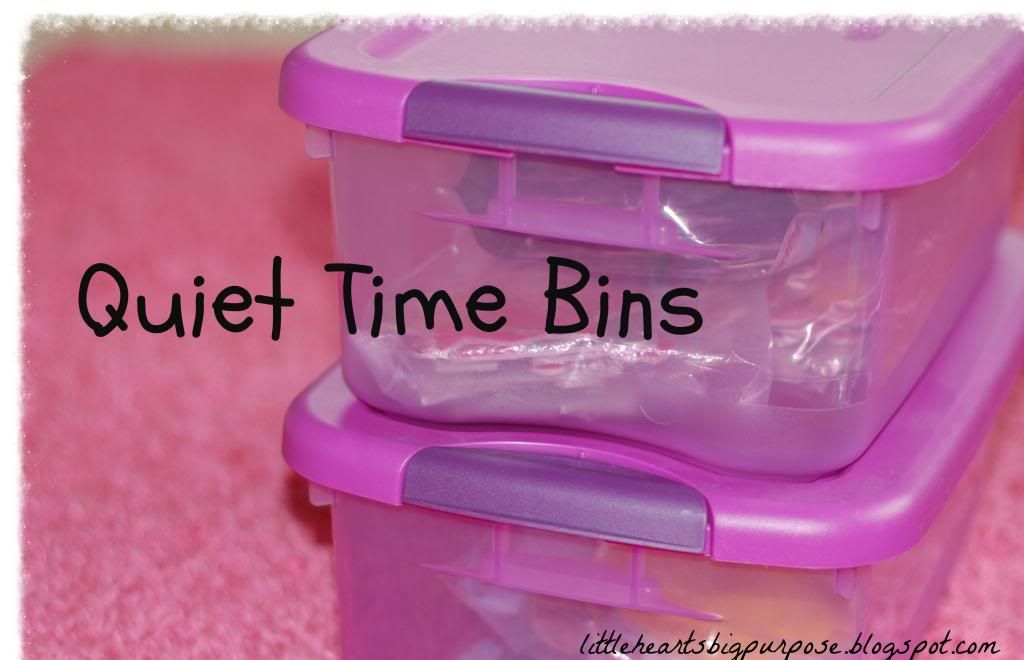 Although most of us homeschool moms have willingly chosen to keep our children home an extra 6-8 hours each day, that does not mean that we are not normal human beings without a need/desire for occasional quiet and/or alone time. On the contrary.
I know this momma definitely needs some time during the day, when possible to relax, read my
Bible
, get some work done, have a cup of chai or Detox Tea, just THINK... or ALL of the above!
Because many kids grow out of naps, but still need some down time and/or some alone time (whether they are extremely extroverted like one of mine and don't realize it), this allows them to have some focused activities if they would prefer not to take a nap or lay down.
These quiet time bins have worked out really well for times like these.
We don't necessarily do this daily, just on the days that we are home all day and everyone needs some separation and quiet time.
My husband purchased these
small purple storage bins for .97. I add age appropriate activities in one bin for each child.
I change the bins or items around each time we use them. The bins seem to make it a
bit of a novelty
as the kids get excited to see what is inside.
I'm quite sure there are different versions of these (as with most things) on Pinterest and online, but these are some of the ideas that we use for our quiet time:
(use your discretion regarding age as these can obviously be a choking hazard)
For older kids: word search, crosswords and connect the dots.
Other ideas not shown:
Coloring
Color Wonder Books
Dolls
Lacing Cards
Dominos
Sensory activities
Playdoh (for the brave moms out there)
What ideas do you use for quiet time for younger children?